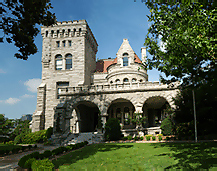 Today, David and Carolyn were pleased to perform at a reception along with Yinzi Kong of the Vega Quartet. The reception was held at the exquisite Rhodes Hall, headquarters for the Georgia Trust for Historic Preservation.
The setting was elegant and graceful; the food bountiful and delicious. We played numerous waltzes and arrangements of opera arias to the delight of the 200+ attendees. We noted especially the many guests who were obviously appreciative of the performance—some quite happy just to sit back, relax and enjoy the music!
Rhodes Hall is a wonderful facility, and is available for social and corporate receptions and events. If you are interested in hosting an event there, contact the site's owner, Peachtree Christian Church.