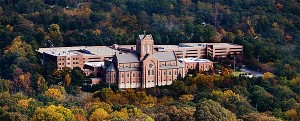 Today we had the privilege of performing at an Atlanta wedding that was simple, yet elegant. (Weddings can get so extravagant; sometimes simplicity makes them all the more memorable!)
We enjoyed playing with Atlanta pianist Diana Pand. It was an absolutely beautiful ceremony, and everything went well. (Kudos to Diana though as we all had to change gears when the weather threatened, transitioning from a planned outside venue to inside the sanctuary at one of Atlanta's most beautiful churches, Church of the Apostles in Northwest Atlanta.
The bride's musical selections included the ever-popular Pachelbel Canon in D for the entrance and the traditional Wedding March by Mendelssohn for the Recessional. The wedding turned out gorgeous, despite the last-minute change!